Canvas | Issue 89: Faces of Hope

Despite COVID-19 halting various activity around the world, the Spirit of God continues to work in the hearts of students in exciting ways here in the Manawatū. We have seen real growth this year in the number of non-Christian students wanting to know more about Christianity. At least a dozen non-Christian students have attended evangelistic Bible studies this year, with several MUCF students doing one-to-one introductory Bible studies.
A memorable experience was the week I had eight non-Christian guys willing to meet up on campus, but not enough Christian students to meet with them. One of those students was "C," a first-year mechatronics student who had a hunch that there must be a God. One of the MUCF students and I had the opportunity to hear his story and share the gospel with him. They are now doing a weekly Bible study together, and he is seriously considering the evidence for Christ. Students from CF are also meeting with three other non-Christians who are exploring the faith.
Earlier this year OCF ran a weekly Explorer Group, which was a real encouragement. During the first week of the COVID-19 lockdown, when most people were having a break from everything, the non-Christian students were still keen to meet to study John's gospel! One of the group members, a Buddhist student from Vietnam, offered to host the group on Zoom. I co-led the Explorer group with a Masters student from China, who came to know Christ at Massey just last year. We also had a Hindu student and a Chinese student in this group. These kinds of opportunities are at the heart of our work on campus.
A growing number of students are actively involved in evangelism. I had to start a second evangelism training group during lockdown because the interest was so high. It's been encouraging to see God opening the eyes of our student leaders to the power of the good news of Jesus.
In August two students came to faith in Christ, which was so exciting to see. Both are students in the halls, and had attended one of the "Grill a Christian" events that MUCF had put on for halls students.
Despite the unusual happenings of this year, God continues to amaze me with the way he is moving in the lives of students.
---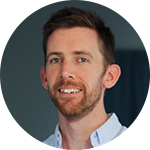 Scott Mackay, Manawatū Team Leader