Canvas | Issue 88: People of Prayer
Think of the most capable, gifted Christian leader you know. It doesn't have to be a personal acquaintance, just someone you've heard about – no doubt with a sense of awe and wonder. Perhaps he or she is a brilliant speaker or writer, filled with pastoral sensitivity and cultural insight; a zealous and charming evangelist, a charismatic and humble leader, yet somehow gifted at administration and able to reply to every email within the hour.
Would it surprise you to learn that this extraordinary, super-gifted (and probably hypothetical) leader desperately needs your help?
In particular, they desperately need your prayers. All Christian leaders need your prayers. Every TSCF leader needs your prayers. Prayer is the engine that drives ministry.
We probably all know this need for prayer to be true in our minds, but in practice it's easily forgotten or ignored. In a world that puts so much confidence in outward appearances – like the dashing and imposing Saul, who seemed the obvious choice for the Israelite king ahead of weedy little David – we Christians can find ourselves deceived into valuing the same kinds of things. And while God clearly gives gifts to his people and works through those gifts, even the most gifted of Christians can't expect to see much fruit at all if prayer is neglected.
Probably the Bible's best and clearest example is the apostle Paul. No matter which gifted Christian leader came to mind for you, Paul's gift package was greater. Yet even this most extraordinary of all Christian leaders – the unique apostle to the Gentiles, a man of unparalleled culture, learning and theological insight – relied completely on the prayers of God's people for his life and ministry to bear fruit.
Writing to the Philippians, Paul emphasises just how vital the Philippians' prayers are for him: "Yes, and I will continue to rejoice, for I know that through your prayers and God's provision of the Spirit of Jesus Christ what has happened to me will turn out for my deliverance." (Philippians 1:18–19)
It's an extraordinary statement. Surely the presence of the Spirit of Christ would be enough to give him confidence and assurance of his deliverance. But Paul doesn't just mention the Philippian prayer support as a nice added extra alongside the Spirit; it's on the very same level!
It wasn't just Paul's own "deliverance" that required prayer; his gospel preaching relied on it just as much.
"Devote yourselves to prayer, being watchful and thankful. And pray for us, too, that God may open a door for our message, so that we may proclaim the mystery of Christ, for which I am in chains. Pray that I may proclaim it clearly, as I should." (Colossians 4:2–4)
"Pray also for me, that whenever I speak, words may be given me so that I will fearlessly make known the mystery of the gospel, for which I am an ambassador in chains. Pray that I may declare it fearlessly, as I should." (Ephesians 6:19–20)
"Pray for us that the message of the Lord may spread rapidly and be honoured, just as it was with you." (2 Thessalonians 3:1)
Imagine that. Of all the people who've ever lived, of all the gospel preachers who've ever opened their mouths, surely Paul had it in him to produce results. Surely he could be counted on to win at least a few converts with his bold, winsome, persuasive proclamation.
That's not how he saw it. The gospel would only "spread rapidly and be honoured" if God's people prayed. Paul would only have an audience for his message, and the ability to speak that message clearly and boldly, if God's people prayed. For Paul knew that only God can open spiritually blind eyes. Only God can bring about new birth.
The great apostle Paul saw prayer as the backbone of his life and ministry. He would attempt nothing without it. And neither should we. As TSCF, we know that our ministry of reaching students with the gospel of Christ will be fruitful only if God's people pray. Devoted prayer is the power that fuels our ministry. And that's why we value your prayers so highly: we can't do without them.
But it's worth asking: if God is sovereign – if he knows what we need before we ask (as Jesus says explicitly in Matthew 6:8) and it's all up to him anyway – why do we need to pray? The short answer is because God tells us to.
The slightly longer answer is found in the character of God. Our Heavenly Father is not a robot, nor has he created us to be robots. He is a relational being – our Heavenly Father – and he made us as relational beings.
As a relational being, he loves communication. He speaks to us in the Scriptures, and he listens to us when we pray. He doesn't need us at all, but in his infinite kindness he gives his children parts to play in the growth of the gospel. One vital part is our gospel speech – whether in a sermon, an email, a blog post, a Bible study, or one-to-one over coffee. Another crucial part is our prayers. And prayer is a glorious partnership, a gloriously relational act between a dependent child and a powerful Father. It is something real and tangible that we can do, and yet its essence is in looking away from ourselves and toward the sovereign God. It is the empty hand of trust – faith in action: "God, please do that which we can't do ourselves."
It's said that Charles Spurgeon would welcome visitors to his London church, the Metropolitan Tabernacle, with a tour. During this tour, he would take guests to a basement, where a small team of prayer warriors gathered as the Prince of Preachers delivered his message. Spurgeon called this humble little space his church's "boiler room". "If the engine room is out of action," he is said to have remarked, "then the whole mill will grind to a halt. We cannot expect blessing if we do not ask."
It's worth taking time to reflect on your prayer life. What's the state of your "boiler room"? Now think about the place of prayer in your Christian community. How do you contribute to the boiler room of your church, your local campus, and of TSCF?
---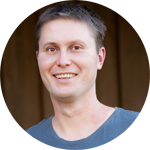 Geoff Robson, Canterbury Staff Worker