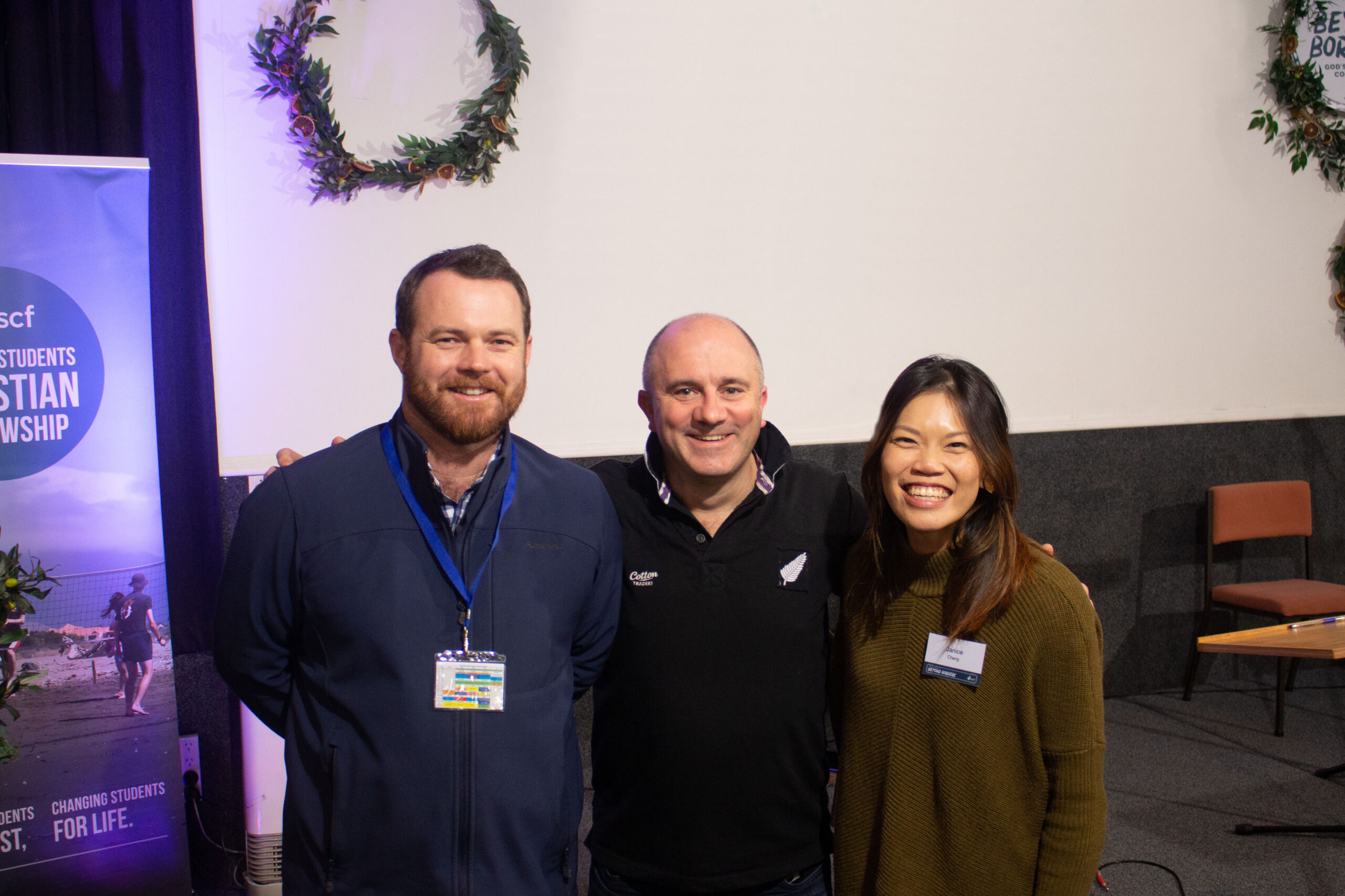 Studying at university was a key time in my life and journey of faith; with Christian classmates, TSCF staffworkers and faithful people from the local church all playing significant roles. And I loved getting involved in the campus CF! It was such a great group of people from all different backgrounds and studying different courses, living in a way that made me want to get involved. Being welcomed and having lots of fun, reading the Bible together, considering life's big questions, who Jesus is and what difference He makes, and all the while seeking out ways to serve other students… it was a compelling combination!
Those years laid a great foundation for my life as a Christian: convictions and practices formed during that time made a huge impact on what I have done with my life since, and on who I am today. This is not just in terms of the big decisions, but also in aiming to live and speak for Jesus in the day-to-day. Of course this is always a work in progress! But God is gracious, and there have been many times where this has been a deeply fulfilling path. My working life has taken me to Tanzania, Kenya, Southland and back to Canterbury where I grew up; which are all places I love, full of people I love, and with each providing rich experiences in the joys & struggles of Christian life. So I am very thankful for the influence TSCF has had in my life, and I trust that you are too as you reflect on your own journey of faith, how connections with TSCF have shaped your life and continue to have an impact today. It is a great privilege for me now to continue with TSCF as part of the National Board.
I love meeting students and hearing what life is like for them here and now. I am always in awe of our amazing staff team who do such a great job of supporting them. The wider TSCF family is strong too with many wonderful friends and supporters. I look forward to connecting with many of you as and when we are able, COVID restrictions permitting.I'm excited about the future as we all work together, sharing in the joys of connecting with students, introducing them to Jesus and building them up as they follow him. Please continue to pray that we would remain faithful in holding out the good news of Jesus Christ; but also that we would be quick to listen & learn, full of grace & compassion, and that we would be thoughtful & effective in engaging with students in each new generation. Join with me in giving thanks for all those who have contributed to TSCF in so many ways over many years, and for students who have gone on to live lives of fruitfulness for God, both in New Zealand and across the world. God bless you all.
–Tom Broughton Chair
As a fresh-faced, hopeful and eager 18-year-old, who moved to New Zealand despite not knowing very much about the country, I never anticipated I would reflect on my university years with so much fondness and gratefulness. Fondness because it feels like it was just yesterday; gratefulness because of what that season has cemented in me, especially in areas of my faith.
I grew up in a Christian environment in Penang, Malaysia and chose to follow Christ when I was 12. However, your allegiance to Christ gets tested when you are farthest away from the "watchful" eyes of your family and community. You really could be anyone. You could literally recreate yourself.
But it was the rigorous Bible studies, wrestling with the Word and what it means for me as a student, interspersed with great humour, food and deep friendships through TSCF that anchored me deeper in my faith in Jesus as my Christ. As an international student, I was involved in Wellington International Christian Fellowship, and had the great privilege of learning biblical truths alongside friends from diverse cultural backgrounds.
I was part of the first cohort of students who lived at Rongopai, a community flat at Victoria University of Wellington, where I learnt that sometimes loving one another comes in simple ways such doing each others' dishes.
While pursuing my PhD, I also co-led Catalyst, a ministry of TSCF, meeting with young professionals passionate about being true followers of Christ in our workplaces. My time at Catalyst shaped my view of work and vocation in the context of the entire story of the Bible. This season remains a cairn that I reflect on at crossroads of my career.
–Janice Cheng Vice Chair