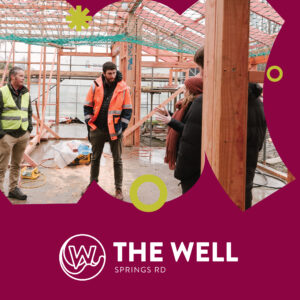 In September 2018, under God's good hand and with the generosity of his people, TSCF was able to purchase a section of land on Springs Road, directly opposite Lincoln University. Fast forward to Feb 2022, the first-ever group of students have moved in and are pioneering a new TSCF initiative. Head of Training and Development, Tim Hodge and Lincoln property student Luke Gilchrist share their reflections as part of The Well project team.
Rachel Hay: Tim, can you describe to us what The Well project is?
Tim Hodge: The Well is an intentional residential Christian community for students, developed to serve the gospel at Lincoln University over the next fifty plus years in three ways:
Firstly, through outreach, so that people who want to find out more about Jesus can come.
Secondly, through hospitality. The Well has a big dining table in an expression of hospitality. In the gospels, Jesus is often is at a meal or going to a meal or coming from meal. But on the university campus there is increasing fragmentation. So, we want to show people hospitality as part of Christian witness.
And the third thing is in terms of discipleship. What it means to live as a Christian community to rub shoulders with people positively and negatively. What does it mean to agree to have certain faith-building activities together? It might be praying every Monday morning for friends who aren't Christians or looking into the Scriptures every Friday evening and taking turns to lead a Bible study to get better at that.
The reason this building is called The Well is twofold: it's on Springs Road, which runs past the university and springs and wells go together. But more so because in John 4 a woman who is an outcast in her own society meets and encounters Jesus at the well. And the whole community is transformed after she meets Jesus. And that's the aim, that men and women who live there, continue to be transformed by Jesus, and for others to be welcomed in and transformed by Jesus through the work of the Spirit.
RH: TSCF believes in reaching students for Christ and changing students for life. Tim, what part does The Well play in achieving that big vision?
TH: TSCF has four aims and our first is True Witness. We're a mission organization. The Well is a community, and it's a place for students, who aren't Christians, to find out more about Jesus.
Through Undivided Life, TSCF aims to help those that live in The Well to work out what it means to be a Christian, not just on Sundays but also in Monday lectures, on Tuesday evenings when you have an argument with your flatmate, and on Wednesday mornings when you're trying to pray together.
Lincoln University, certainly before COVID came to our shores, had the largest percentage of students from overseas of any of the universities in our nation. So, there are lots of opportunities to speak for Jesus with people who are from outside NZ, living out Global Reach.
And fourthly, we aim to encourage Deep Thought: lots of late-night discussions amongst residents and guests about all sorts of things, having good yarns, and particularly about how the good news about Jesus impacts whatever it is they're talking about.
RH: Luke, can you share a little bit about why you were interested in being part of The Well project team?
Luke Gilchrist: Early on in my first year, I was talking to Tim about how it would be interesting to have a house where people from Christian Fellowship could go for our Wednesday lunch, so I've been part of the team to bring a student perspective.
TH: I think Luke is underplaying his hand a little bit there. Luke is essential on the project team, he's an equal partner in decision making and has brought a clarity around the student voice that has made things infinitely better. TSCF really believes in making sure that students drive things forward locally and nationally. Students are very capable and Luke is using his property understanding through his studies and to serve the kingdom of God where he is and I'm very grateful for that. .
RH: Can you guys both share about what you have learned through working on the project team?
LG: It's been a big learning experience which has been really good to be a part of. I've learnt a lot of practical things like the fire regulations, how to cope with the little things that you don't foresee which pop up, and that you can't take anything for granted with COVID.
TH: I've learned about the process of building and architects. I've learned how to be content with asking 'silly' questions when I don't understand stuff. But more than that I've see how it's better to work in a team because we bring different skills into that team to make it better together.
I think that I've learned throughout this project that God can be trusted. So, we have had challenges and setbacks in the build, and we undoubtedly will have challenges and setbacks amongst the resident community. It's a big ask to have intentional community with a group of nine people and we've said to everybody who's going to live there that it's going to be hard and it's going to be good, and those things are not at opposite ends of the spectrum. But in all the challenges of building and of residential community, it's a joy to see God draw men and women to the Lord Jesus and to entrust that work to Him.
RH: Have you seen God provide in any unexpected ways?
TH: I've been so humbled and encouraged by the generosity of God's people. The Well is being funded partly by a bank loan, but mostly by donations and there have been donations from former Lincoln students in every continent on the Earth. Which is remarkable because it's just wee little Lincoln.
It's also been encouraging to see God's hand over the timing with an anchor donor who put quite a lot of money in to enable the purchase of that land.
We also had a building contract which is mostly fixed price with our builder which was signed in April 2021. By the time we got to June nobody in the industry did that anymore because of the financial risk associated with material delays caused by COVID.
To realize God's sovereignty over something as tangible as a building has been hugely faith building and encouraging. I have my moments when I get stressed and I wake up in the night but when I stop and am clear in my thinking, I see God's good hand over this project.
LG: Yeah, you've probably had some high stress days with things not arriving. But it was just interesting to talk to a builder over the weekend about how bad getting stuff actually is now, and how we've just been ahead of that. That's a good reminder.
RH: How has your faith intersected with working on a project that is so practical?
TH: It's a building project, but it's a building project to serve the gospel. The aim is not for a building to be put up. The aim is for men and women to meet Jesus over the next 50 years through living in community or through being welcomed as guests into that community. And so every decision has been run through that filter, which has led to some interesting conversations with some of the builders or subcontractors. Because it's an ordinary residential house, but it's also an unusual house because of the end purpose of it.
RH: Luke, what are you looking forward to as one of the first residents in 2022 of The Well?
LG: It's exciting to be one of the first. I'm looking forward to being able to spin some good yarns and to live with some like-minded people there who have a faith. I'm looking forward to growing as a person spiritually, through the challenges of flatting. I'm also looking forward to seeing how we can get some first years involved with CF as well, through that. And what The Well might mean for CF in the future is pretty exciting.
RH: It's massive, for first year students coming to Lincoln and knowing that there is a community space right outside of the university where they can meet and fellowship with other Christians, or to have a safe space for people that are exploring what Christianity means. To be able to do that and connect with people and have fun and be social and just enjoy community together.
"It's been so encouraging and humbling to have so many people involved in construction; from the builders minimising supply chain problems, to those who volunteered their expertise, to those from every continent who donated money. "
– Tom Broughton, Board Chair
"The opening of The Well marks a significant moment in TSCF's history. It is a testimony to God's provision and the faithful partnership of many people. We are excited by the possibilities of all God will do."
–Ben Carswell, National Director
Rachel Hay
Graphic Designer