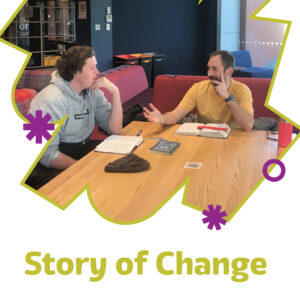 Henry is studying a Bachelor of Commerce in Agriculture at Lincoln University and shares some of his faith journey.
Chris: So, Henry, tell us about your life and your upbringing.
Henry: I grew up in Wellington and I didn't really have much religious influence growing up, but my Oma was very devout in her faith. I thought she was quite over the top with how much she would talk about Jesus. I always listened politely but wasn't really paying attention.
When my Oma passed away in 2018, I read out a prayer at her funeral. I started with, 'I'm not a Christian and I don't think I ever will be…'! Then it all kind of snowballed in 2019 when I started uni at Lincoln.
I met a bunch of people from the Christian Fellowship at an event and found it really wholesome. They were good people and I found the friends I made there refreshing as they weren't going out drinking. My attitude towards Christianity changed and I started going to church and CF purely because I enjoyed the friendship.
C: What have been some of the key moments over the last few years?
H: I initially started looking into things to honour my Oma's memory, but I was still very sceptical. I thought that I would know everything about Christianity after three years and then make my decision, which is funny as it's taken you and me two years to finish the book of Luke! I know that she was praying for me as well which would've helped.
There were a lot of times when someone was sharing something from the Bible, and it was as if they were speaking specifically to me. There was one time when the sermon was on Luke 5, and the pastor mentioned that we need to invite Jesus into our boat. At that point I was on the edge, kind of testing God and it felt like he was saying I needed to commit.
C: What made you finally commit?
H: I was waiting for this big, revealing, unmistakable moment, but that didn't really happen. The big thing I think was seeing God's truth. There are unwritten universal truths, like morality: we know that certain things are good or bad. And I started seeing those unwritten truths written in the Bible.
C: Romans 2 talks about how God's law is written on our hearts, and you've experienced that as we've learned about God's design for the world.
H: Yeah, and also the way we were created. For example, I always thought that sex before marriage was a good thing and something I didn't really like about Christianity, but now I see that God's idea for sex in marriage is good and true.
C: So how have you seen your faith journey grow over the past few years?
H: I think understanding more of God's truths. When you start getting into the Bible and breaking it down and really living the way that God intended, you see that this is the way he meant you live.
Please pray for Henry as he continues to grow in his understanding of who Christ is and that God would shape him as a student resident of The Well in Lincoln.
Henry Bassant interviewed by Chris Hay, Lincoln Team Leader