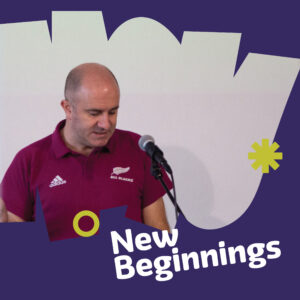 After a challenging couple of years, it's not hard to sympathise with those who were looking forward to a new year anticipating it might be a chance for a fresh start. Sadly, the ongoing realities of life impacted by a global pandemic continue. However, the arrival and return of students to our polytechnics, wānanga and universities is also a reminder of the new opportunities we have to share the good news of Jesus with students in New Zealand.
I'll never forget the day, when, with a mix of fear and trepidation, excitement and expectation, I packed my life into two small cases as I left home for the first time to begin my student days. Moving to a new city, making new friends, studying new subjects, joining new clubs were all part of the new beginnings as a first-year student. They were significant and formative times for me. For this generation, in this COVID-disrupted moment, these early weeks of their student years are a crucial time for TSCF and student mission.
Both online and where possible, in person, TSCF has been represented at clubs days and orientation events around the country. We have met students, made connections and started building friendships, all with the prayerful desire that others may encounter Jesus and be transformed by Him for life.
At its core, the Christian message we proclaim is one of new beginnings. Remember what Jesus said to Nicodemus: "You must be born again!" It's the message Paul shared with the Corinthians when he said, "If anyone is in Christ, they are a new creation, the old has gone, the new has come!" Our prayer is that in 2022, students from Auckland to Otago would make a fresh start and find new life in Jesus.
As we look back on the last couple of years, we recognise they have been challenging for many, but we also look back with thankfulness for a steady, though small stream of students coming to faith and trust in Jesus. As we begin this year of student mission, we're delighted that 'The Well', our new residential community, is now open with its first cohort of students seeking to live for and speak of Jesus at Lincoln University. We're thankful for all who have partnered with us in this exciting initiative and pray it will be used to bring new life in Lincoln.
While we hope and pray that the future may be easier, there are no guarantees. The global pandemic has taken its toll. Continued uncertainty and worries remain for many. There are significant changes to the reality of campus life in NZ and a need for ongoing flexibility, as COVID restrictions are in place. But we remain committed to 'reaching students for Christ and changing students for life'. While student mission is rapidly changing, our message has not. 'Jesus Christ, who is the same yesterday and today and forever' (Hebrews 13:8) is at the heart of TSCF and all we do.
As you read this Canvas edition, may you be encouraged and inspired to pray for students starting new beginnings across New Zealand. Would you pray for new beginnings as students meet Jesus, turn to Him and trust in Him?
In Christ
Ben Carswell