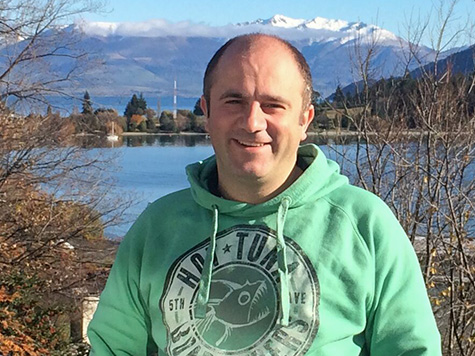 The new year heralded a new chapter for both TSCF and Ben Carswell, the new National Director. It does have plenty of similarities to the last one, however—Ben has been part of the TSCF team for more than a decade.
"Our vision for TSCF is the same as it's always been: reaching students for Christ and changing students for life," he said. "The gospel is at the heart of who we are and what we do."
Ben was raised in Leeds, England, and identifies as a Yorkshire Kiwi. Given the opportunity, he asked (almost rhetorically), "Have I mentioned that I come from the same village as Samuel Marsden?"
New Zealand's first missionary often finds his way into Ben's conversations, not just because of where he came from but because of what he did.
"The fact that Marsden played such a significant part in NZ's Christian history resonates strongly with myself and my wife, Jen—that sense of call and following in his footsteps," Ben said. "I'd articulate what he famously preached on from Luke 2:10 as the rongopai gospel message we proclaim—good news of great joy for all people, a Saviour has been born, Christ the Lord."
Ben studied at a Bible college in the USA and university in the UK, completing a degree in business management and marketing. He was part of Christian Unions in Aberystwth and Aberdeen, leading mission weeks and serving on student committees. He said that those experiences were formational.
Ben worked briefly in marketing and for a government agency before recognising a call to enter student ministry. The UCCF staff member who interviewed him for his job there in 2004 was Nigel Pollock, who the following year accepted the role as National Director at TSCF.
"He asked why I wanted the job, and I said, 'I don't, but I think God might want me to,'" Ben said. In 2006 he brought a small team of UK students on a mission trip to NZ, working with TSCF groups in Palmerston North and attending a student conference.
Before Ben left the UK, his then-girlfriend Jen said, "Don't you go and get offered a job in New Zealand." "I said, 'Don't worry, even if I was offered it, I wouldn't take it,'" Ben recalled.
But by the time he returned, Nigel and Andrew Becroft, chair of the board, had begun to change his mind.
"I had no sense of coming back long term, but I saw the needs of people to have confidence in the Bible and have confidence in the gospel," Ben said. "So, three months after we married, we moved to New Zealand with two suitcases each."
Their three children, Sam, Josh and Hannah, were born in Hutt Hospital, and in 2014 Ben and Jen became NZ citizens.
With TSCF, Ben has worked as National Outreach Coordinator, with students in Wellington, and most recently as the Head of Student Ministries.
"I believe in the mission. I believe students are best placed to reach students for the gospel," he said. "We have already seen a steady stream of students coming to Christ in recent years, but the task is not completed. Seeing students applying the gospel in all areas of life, from teaching in schools to working in architecture to playing for the All Blacks—I'd love to see that happen in the next generations of students."
Ben's three top priorities as he begins the role are strengthening the work in Auckland, diversity, and succession planning.
"The work in Auckland is terrific, but we are stretched," Ben said. "We need more workers. That's staff, students and volunteers. We need to think about how we grow the work in New Zealand's biggest city."
This includes developing partnerships with churches and gospel-minded agencies that also want to disciple students. While new staff and partnerships are important around the country, they are critical in a city that has more than a third of the nation's students and just a fraction of TSCF's staff.
"We need to be creative and generous in the way that we do that, thinking collaboratively for the sake of the gospel," Ben said. "I'm keen to chat to church leaders and anyone interested in having that kind of conversation."
In terms of diversity, TSCF's work includes overseas Christian fellowships and international student ministries. However, "we need to work hard on our bicultural heritage and our bicultural engagement, as well as our multicultural engagement," Ben said. "We are not connecting in the way that we would like with many Māori students and students from Pacific Islands."
The third strategic focus is a part of TSCF's approach to raising up student leaders who in turn disciple others. Several staff have themselves been student leaders, then Minterns, and after beginning their working lives have returned to invest in other students themselves.
"Student ministry is dynamic, it's always moving," Ben said. "We need to constantly be growing and developing new staff, new students, new student leaders, and asking who the next generation are. We need to be developing them and giving them new opportunities.
"Nigel has left TSCF in a good place. There are some systems and structures that need development for the next stage of growth, but we don't need to make radical changes. We need to build for the next phase of ministry. And we need to be listening to where God is leading us."
Ben in a nutshell
England vs All Blacks:
The attacking team. (It's complicated.)
Favourite film:
A tough call between The Great Escape and Chariots of Fire. I have easily seen them both 20 times or more.
Favourite food:
You'll never find me happier than when I am in a lolly shop. (That's a shop for candy or sweets, for those who don't know the word!)
Significant books:
I love books by Jerry Bridges and Bill Bryson. Influential books for me have been Hudson Taylor: Man in Christ by Roger Steer and Disciples are Made Not Born by Walt Henrichsen. In the Bible, I particularly love 1and 2 Timothy and Titus.
People I'd like to have dinner with:
Billy Graham, Eric Liddell, Helen Roseveare (missionary and hero), Winston Churchill and Howard Guinness
Favourite NZ locations:
Tekapo, Abel Tasman, and you can't beat Wellington on a good day 😉
Places to visit:
Zimbabwe, Argentina, Stewart Island and Antarctica.
Heroes:
Sir Michael Jones (ex-All Black and all-round legend), Helen Roseveare and George Beverley Shea.
I'm happiest when …
I'm with my family, travelling, or with a good book, good coffee and good food.