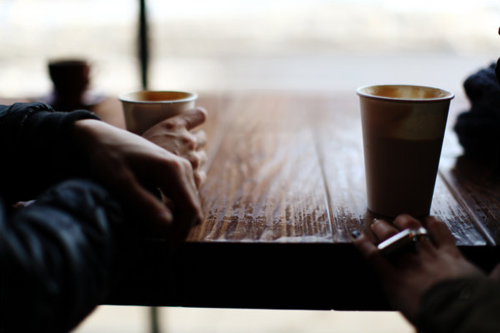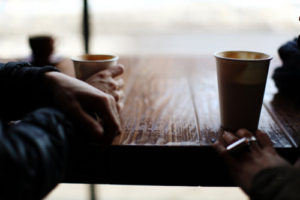 Every year, the University of Auckland has a "Jesus Week" where Christian clubs collaborate to hold events, promote discussion and allow fellow students to find answers to their questions about Jesus and Christianity. This year both the City and Grafton campuses had a dedicated week, so students from the seven TSCF clubs there, in collaboration with other clubs, pitched in over 10 days in September.
Callum Hammond, a leader in the Christian Medical Fellowship, shared this story afterwards.
I had a chat with a girl at the cafe on Friday. I was like, "Hey, would you like a free coffee?" She hesitated a bit and then was like, "Yeah, I kinda need one." She looked a bit down to be honest. So I got her a coffee and then we chatted a wee bit, it wasn't really going anywhere. Found out she'd been brought up in a conservative church, wasn't a Christian, was gay.
Then she saw the board with the "Ask Jesus" question and looked interested. I asked her of she'd like to ask a question and she was like, sure. She wrote "Are you OK?"
I said, "Wow, that's a really interesting question. Would it be okay if I ask why you wrote that?" I thought it looked like a cry to God, straight from the heart.
She said that she thought Jesus must have been coerced by God, otherwise why would he have done it? So I got my phone Bible out and showed her Philippians 2:6-11. She came alive a bit and said something along the lines of he must have sacrificed himself for humanity, then; I can't imagine he'd ever have wanted to die for me.
I went back to my phone Bible and showed her how God loved her personally, and died to save her personally. As we were discussing she started crying a bit and said, "But that means I have to respond to him!" And I felt like crying a bit too because she was so obviously feeling broken—from her upbringing, her family, her sins, her past experience of church—but God's love was breaking through!
After I'd finished explaining she said nothing, just looked at the copies of John's gospel on the table. I said, "Look, I really don't feel comfortable just leaving it like this. Would it be okay if I left you with a John, and the address and time of a church I think you'll fit in with?" And she agreed and went away clutching that John and the details of the church, and although her eyes were still red, she didn't look so broken anymore.
I wasn't even rostered on.
University of Auckland City Campus
Several Christian groups at the University of Auckland's city campus (including EU, OCF, KYCF and STOC) collaborated to put on the campus' annual Jesus Week. This year's theme was "Story." We served hundreds of hot beverages to students through our free café in the University Quad.
We also hosted seven talks, exploring how the story of Jesus relates to topics ranging from music to cosmology, with an emphasis on personal testimonies. While many students simply came for free food and drinks, both the café and the talks spawned dozens of deep conversations with interested students, some of whom were introduced to the gospel for the first time.
– Annelise Chan
University of Auckland Grafton Campus
Jesus Week at the Grafton Campus is called Crossroads, and ran the week after Jesus Week at City Campus. We had an amazing turnout and were so excited to see so many of our Christian friends bring their friends who weren't Christian with them. Actually, we found out that sometimes, it was the friend who wasn't Christian who dragged their Christian friend to hear that evening's talk! We had four evenings of expert panelists who spoke and answered questions on the subjects of Euthanasia, Evidence for Christianity, Science + Faith, and Suffering.
We also had a bookstall outside each event stacked up with books kindly donated for free, which we gave away to anyone interested. Most excitingly, the Bible Society gave us eleven gospels of Mark and five Bibles. These almost all disappeared by the end of the week, along with a good chunk of our remaining gospels of Luke. One agnostic girl, emerging from the Science + Faith talk, saw the Bibles sitting there and exclaimed delightedly, "Oh, a Bible! I've been looking for one!" She went away with her very own Bible in a readable translation, along with a Christian friend to read it with.
– Callum and Thealyssa