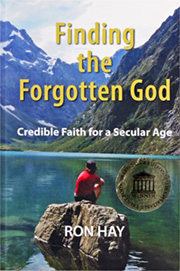 By Ron Hay
This is a rare beast: a book that explains the Christian faith written for Kiwis, by a Kiwi, using Kiwi illustrations. It's an excellent book to give to friends both Christian and not yet Christian.
Cantabrian Ron Hay suggests that in NZ we haven't forgotten who God is; we've forgotten that we've forgotten. His book is an attempt to engage with the thoughtful Kiwi, demonstrating that there are good reasons for a credible faith in Jesus in 21st century NZ. It is well referenced, and reminds me of a Kiwi version of Tim Keller or C.S. Lewis.
Ron has helpfully talked about these issues at TSCF staff and student events, and we're grateful to him.
– Tim Hodge