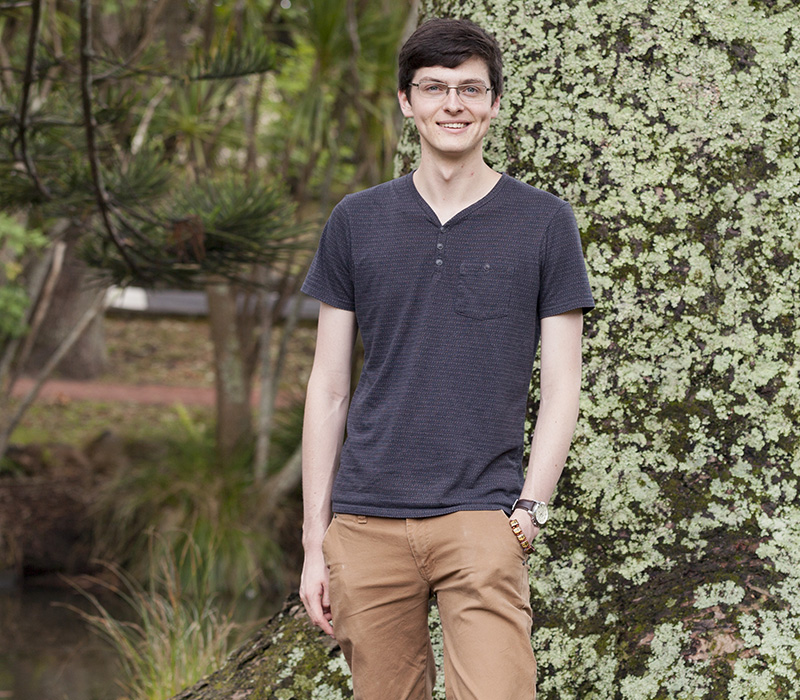 Very rarely will anyone die for a righteous person, though for a good person someone might possibly dare to die. But God demonstrates his own love for us in this: While we were still sinners, Christ died for us. (Romans 5:7-8)
I was born into a Christian family, but I believe that my testimony begins at school. I succeeded in the school system. In fact, I won so many little competitions in primary school I had a drawer full of the lollies I received as prizes. At high school, too, I succeeded in pretty much everything I set my hand to and became Dux at 17. I had enormous confidence that I could succeed at anything I committed myself to.
Stupid as it sounds, I wanted to succeed to show everyone how perfect I was. Of course, the truth is that I'm not perfect—I'm sinful. But I thought I was perfect and could see no reason to consider the feelings of others when I spoke. At times, what I said was deeply hurtful. I now see a pattern: I was self-righteously relying on the talents graciously gifted me by God instead of on God himself.
Outwardly, I was a Christian. I was almost indistinguishable from a born-again believer filled with the Holy Spirit. I said all the right things, stayed away from big sins (so I thought) and went to church every Sunday. But I had never understood the gospel or internalised the joyful news of salvation from sin by Jesus Christ. I used to switch off when the word "gospel" was spoken. I remember hating both Parachute and Promise Keepers because people talked about trusting God and surrendering to him. I thought I didn't need to repent like others needed to. I believed God existed. I even believed Jesus was God. But I had never once repented of anything. The fact that I looked so close—I was sure I was a Christian—was why I was so far away.
I praise God because, even though I had no desire to know him or his love and ask forgiveness for my sins, he saved me. About half way through my last year of high school, a girl in my class was converted. It had nothing to do with me and, looking back, I am embarrassed at the comments I made. But it was astonishing to see the change in her. On my first day at school she had cheekily asked me if I knew what oral sex was. Now, she had stopped going to parties and swearing. I knew that I had never experienced a power like that and I began to feel that I had missed something.
When I came to Auckland University in 2015, God brought me almost immediately to the Evangelical Union. I was drawn to the people in the club. They seemed content and satisfied, even when they didn't succeed. I attended EU's Bible studies and was shocked to see how little of the Bible I actually understood.
God definitely has a sense of humour. He used my competitive desire to be the best at understanding the Bible to get me to start reading the Bible, starting at Matthew. Some of the words Jesus spoke really struck me: "Men hated the light because their deeds were evil." "I have come that you may have life." And, "I am the Way, the Truth and the Life. No one comes to the Father—except through me."
As some of the Bible's messages hit home, I began to pray for the first time in my life. Somewhere in those months of reading the New Testament and praying, God helped me realise that I was sinful, that all my so-called "successes" were meaningless, and that everything I needed was to be found in Jesus, who had died to redeem me from my sin and risen from the grave, defeating death. Step by step, God helped me release my need to be self-sufficient. The Holy Spirit stepped in to fill the gap in a way more beautiful than I could have thought.
My grades went down in the second semester, but I was surprised to find I didn't care. A Bible study group began to meet in my room and I started to care about other people for the first time in my life. I found myself gladly helping friends with their work, even when mine was due, and trying hard to comfort them when things went wrong—both things I had never done before.
Realising that something had changed in my heart and that I had truly become a Christian, I went to the pastors of my church and asked to be baptised. At my baptism I said that I felt like Cornelius in Acts 10—a man whom God mercifully led to Jesus even though he looked saved. Now, I can't listen to a song like Starfield's "Reign in Us" without tears blurring my view of the words.
Mercifully, God chose not to alert me to the extent of my self-righteous attitude until a few months ago. I found out that comments of the sort I have been making my whole life had caused someone to relapse into an eating disorder. I had a glimpse of how fraudulent and sinful it is to assume that you are too good for Jesus. It was painful to learn that I had hurt her, and maybe others too, incredibly deeply. Praise God, because the Holy Spirit is leading me to tackle that prideful mess that I allowed to grow in my heart for 20 years. I trust that God, whose crazy love for me drove Jesus to die for my sins on the cross, will never give up on me, and that because of Jesus' great sacrifice I am redeemed in his sight and will stand worshipping God on the last day.
As for you, you were dead in your transgressions and sins, in which you lived when you followed the ways of this world and of the ruler of the kingdom of the air, the spirit who is now at work in those who are disobedient. … But because of his great love for us, God, who is rich in mercy, made us alive with Christ even when we were dead in transgressions—it is by grace you have been saved. (Ephesians 2:1-2, 4-5)
Callum Hammond is a fourth-year medical student and former co-leader of the Christian Medical Fellowship at the University of Auckland.