Join us today in playing a key role in shaping the Christian lives of students across Aotearoa NZ.
A significant part of our mobilising ministry is students and staff getting together to be better equipped in reaching students across NZ for Christ. This year's Summit Conference is being held at Woodend Camp in Christchurch, from 26-30th June.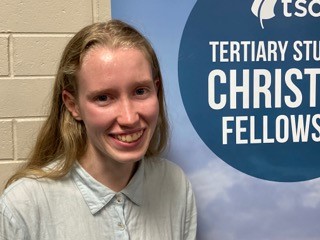 Christina, a student from Waikato University who attended last year said,
"The conference was so cool, it was great connecting with other students".
Christina is planning to go to this year's conference.
Today, could you please help with a gift of $50 or even $100 that will help more students like Christina get to conference?  Thank you!

LOOKING FOR OTHER WAYS TO GIVE?
Give Regularly.
Become a TSCF Vision Partner.
By committing to a monthly donation we can count on you to be with us in our long-term commitment to help studentsreach students for Christ. You'll help our support office resource team in their goal of making this mission possiblemonth after month, after month.
Gift in Will.
Become a Legacy Partner.
By remembering TSCF in your Will, you will help future generations continue the task of reaching students for Christ. Find out more by visiting our 'Leave a Legacy' page or contact us (details right) to talk about next steps.
Contact Us.
Please call our supporter service team to help with your donation.
Phone: 04 3847274
Email: tscf@tscf.org.nz