Minty is TSCF's Ministry Internship Year – discipleship for the long haul.
Our aim is taken from Psalm 92:12-15: "The righteous will flourish like a palm tree, they will grow like a cedar of Lebanon; planted in the house of the LORD, they will flourish in the courts of our God. They will still bear fruit in old age, they will stay fresh and green, proclaiming, 'The LORD is upright; he is my Rock, and there is no wickedness in him.'"
We want to train men and women for the long haul, to bear fruit for Jesus for the whole of life – on campus, in workplaces, churches and homes, in New Zealand and around the world.
Minty is refreshing in its focus is on Jesus, grace, the authority of God's Word and the power of faithful communication of the truth.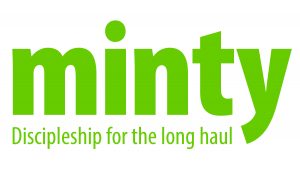 What Minty looks like
Minty is intentional discipleship training that invests in you as an individual. The year runs from either February through November or July through July.
Your year will involve a number of core elements. You will receive regular supervision from a TSCF staff worker who will help decide the specifics of your training. We believe in life-on-life discipleship, and so he or she will invest a significant period of time discipling you for God's glory. You will think through all areas of life and what it means to "follow Jesus" in them. You will also attend three residential training sessions and serve God by supporting the wider work of TSCF. This could be through developing students in one-to-one or small group Bible study, encouraging others in their walk with Jesus, and practical work.
You will raise both prayer and financial support for the year. Like staff, Minterns rely on the support of their community for the spiritual investment of Minty. We will help you with this. You will also find employment for around 10 hours a week to cover some your expenses. This is part of your wider discipleship, applying the gospel to the working world. Minty integrates theological and biblical study for about four hours a week into a pattern of applied responses. This will be tailored to your previous experience.
Minty is an adventure of a year
"Minty was a great time and space to consider faith in so many areas of life. In considering mission, work, relationships and worldview, we spent time in prayer, study, community and service. Even today, I am still growing and unpacking the fullness of my time as a mintern with TSCF."
– Hamish Cartwright, Minty 2015-16, Dunedin

Through Minty I'm better equipped to share the gospel and help people (including myself) know God better. If you want to grow in your faith and help others do the same, Minty is for you.
– Bethany Robb, Minty 2016, Auckland

"A highlight of Minty for me has been knowing God's closeness and strength through the roller-coaster ride of the year. I've gained a better understanding of who God has made me to be, and a growing knowledge that Jesus is so far beyond any boxes that I could ever put him in!"
– Peta Maria Harris, Minty 2010, Wellington

"Minty was one of the most significant times of my life. I learned a lot about grace and the goodness of God in my life. I also extended my skills and knowledge of the Bible. I'm grateful for all that God did."
– Erin Robinson, Minty 2006, Palmerston North

"Through Minty, God has convicted me of the need to engage with the arts: to be a steward in that area and to encourage other creative types along the way too! My involvement with Minty has made me more aware of my utter dependence on Jesus and His grace – and I have enjoyed growing in the knowledge of that."
– Greg Mackay, Minty 2009, Auckland

"It was such a pleasure to work with Auckland OCF alongside the staff team. The highlight for me was seeing students rediscovering Jesus, and how He could be relevant in their studies. I've become a better evangelist, been pushed out of my comfort zone, and have a stronger foundation in whom I believe."
– Duncan Tang, Minty 2010, Auckland

Find out more
You can get more details from your local TSCF staff worker, or email Chris Hay, who leads the Minty team. Application deadlines are April 30 for the midyear intake and October 31 for the February intake.