Summit22: Made for Mission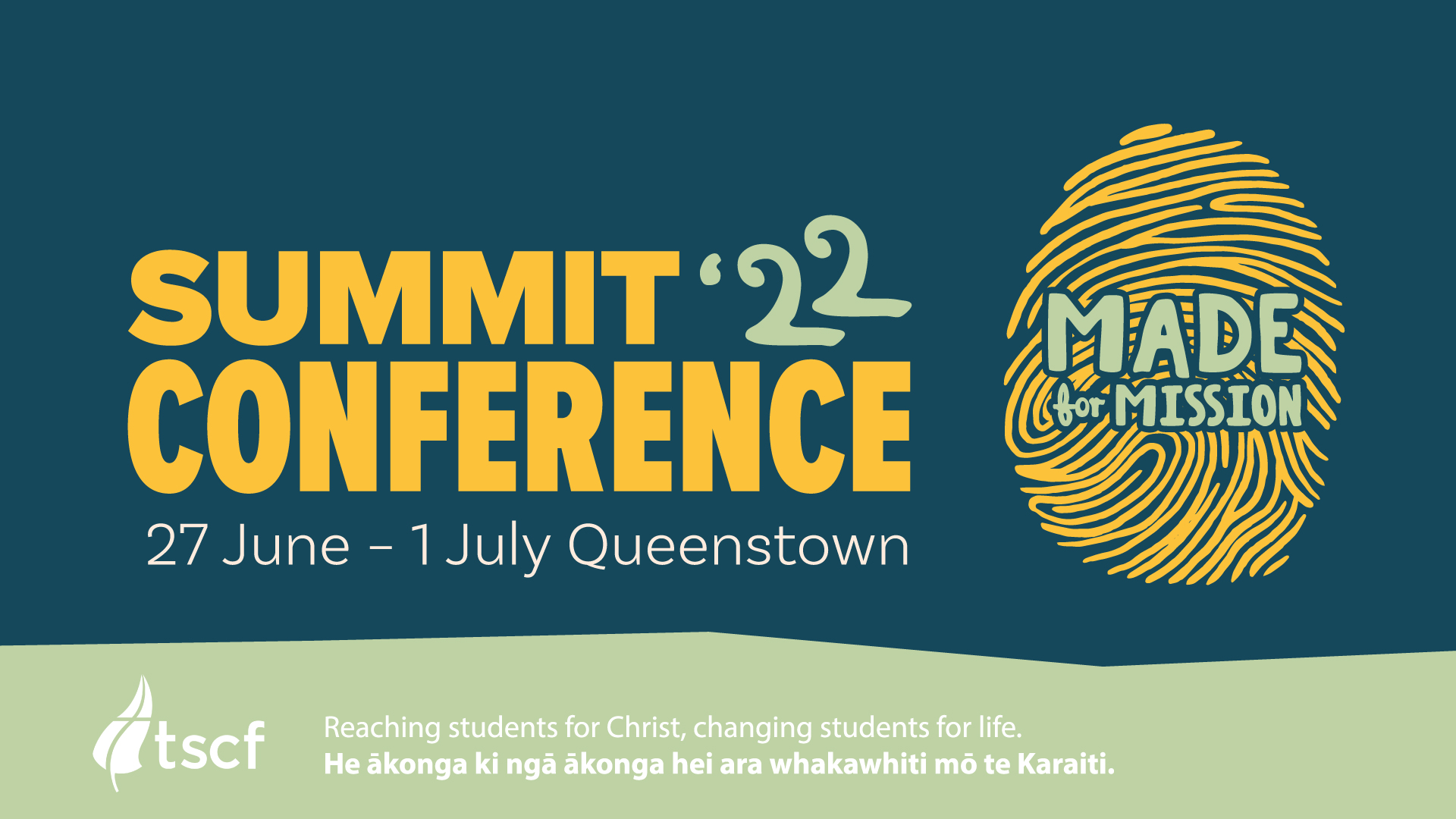 Summit heads to Queenstown in June as we meet together to be better equipped to reach students across NZ for Christ. As we look at 1 Peter we'll see that we have been Made for Mission by God.
Each one of us has been uniquely made to live as God's holy people, set apart and sent to our campuses with the good news of Jesus. Students studying alongside us long for hope, seek after purpose, crave meaningful friendships and God has given us the words of life that make a difference, because Jesus makes that difference.
Our speaker James de Costobadie (Minister @ Latimer Church in Christchurch) became a Christian at university himself and will help us see from God's word the difference that Jesus makes for everyone. So sign up today, don't delay, and join us for Summit22.
We'll update this page with more info as conference draws closer. If you have any questions ask your staff worker, or email us at summit22@tscf.org.nz
Travel
Queenstown here we come! We'll be staying at the wonderful Lakeland Park Christian Camp, with its amazing views of snow-topped mountains and the lake. However you're getting there, here's the info on timings.
Flying
If you're winging your way down, please book flights to arrive by 3pm on Monday 27 June and leave no earlier than 3pm on Friday 1 July. We'll organise shuttles from the airport to camp (and back again on the Friday) if your flights are within these times.
Driving
If you're driving, please arrive for 3pm on Monday 27 June and leave no earlier than 2pm on Friday 1 July. The address is 496 Peninsula Road, Kelvin Heights.
---
Funding
We've done all we can to keep costs down and we reckon it's a pretty good deal for 4 nights' accommodation and meals everyday. But we recognise your funds as a student might be a bit stretched, so we're here to help you with ideas to help with your rego and travel costs.
Get creative and plan fundraising events with your local TSCF campus group. These could be a sausage sizzle, cake stall, working bee, car wash…
Check if your campus's TSCF group is applying to their student union/association for a grant for students going to Summit.
Ask your church to consider supporting you. You can use this letter template, add your details and send it to your pastor/youth pastor/other leader.
Are there ways you can be saving a little bit each day?
Check with your staff worker if there have been any donations in your region to help students get to Summit.
Pray for the Lord to provide. Keep praying!
Rego Costs
Your fee for Summit covers all accommodation, food and materials for the week. Because travel can be a significant cost, the conference fees are structured to reduce the cost for students travelling from further away or more expensive air travel routes.
Bay of Plenty / Waikato / Palmerston North $260
Wellington / Auckland $270
South Island $280