Born
Phil, former LUCF, and Becky Wilson welcomed a son, Reid Marshall, born on 27 April.
Benedict Kok, former Dunedin staff, and wife Lydia welcomed their first child in April, a son named Elijah. The family lives in Malaysia.
Palmerston North team leader Ian Reid and wife Erin welcomed their fourth son, Theo, on 23 May.
Isaac Alexander Aramis Paton was born 12 July to Matthew (former LUCF) and Rebecca Paton.
Axel George Wilson was born to Jonny (former LUCF) and Emily Wilson on 14 July, welcomed by siblings Abigail, Juliette and Evelyn.
Samuel Bridge was born to Luke and Phil Bridge (both former LUCF), 8 August, brother to Grace and Nathaniel.
Paul Denmead, former CU staff worker, and Narelle are first-time parents. Joel Hamish was born on 9 August.
Married
Rebekah Jourdain, former MUCF president, married Nick Allen on 16 June.
Austin McCabe, current MUCF President, and Amiee Perry, MUCF committee member, married on 26 June.
Felicity Baker and Matthew Bayliss, both former members of Victoria University CF, married on 12 August.
Played
Elias Jack Goodhue, a recent LUCF grad and midfielder for the Crusaders, played in the tour game against the British and Irish Lions on 10 June and scored a try in the Super Rugby Final as part of the Crusaders team that won Super Rugby 2017.
Awarded
The Australasian Religious Press Association again recognised Canvas, and Robyn Drake, awarding a bronze in Best Faith Reflection for her column "Building to plan" in the summer 2016 issue.
Celebrated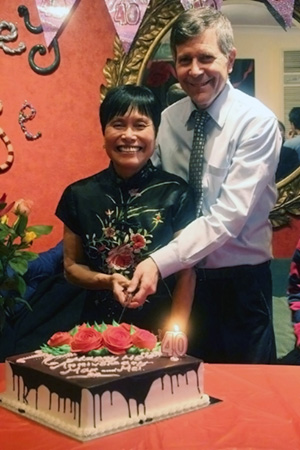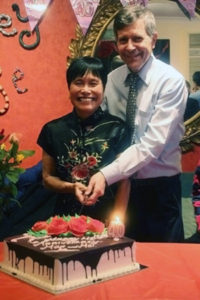 Max and Mei Rideout, Wellington staff workers (pictured), celebrated their 40th wedding anniversary on 6 August.
Died
Indira Rasiah, sister of Ishani Noble (TSCF contract accountant) and mother of Michael, Melanie (former TSCF office staff) and Miriam Mylvaganam passed away on 19 July aged 58 years after short illness.
The sudden death of Otago Polytechnic Chaplain Mike Wright, 57, on 26 July has left that community in shock. Mike served the church in New Zealand in many capacities, participating in the Otago Regional Support committee alongside Otago team leader James Allaway.
"In his work, Mike brought together aspects of being a pastor, a mentor, a spiritual director, a teacher and an academic," James said. "However the main reason he was an excellent chaplain was how he reflected the love and grace of God to everyone who came in contact with him, and it is this aspect of who he was and his work that I will miss the most."
The Dunedin team continue to pray for his friends, wife Sheryl, three children and colleagues.